Bumper Plates vs. Iron Plates: When to Use Each In Your Home Gym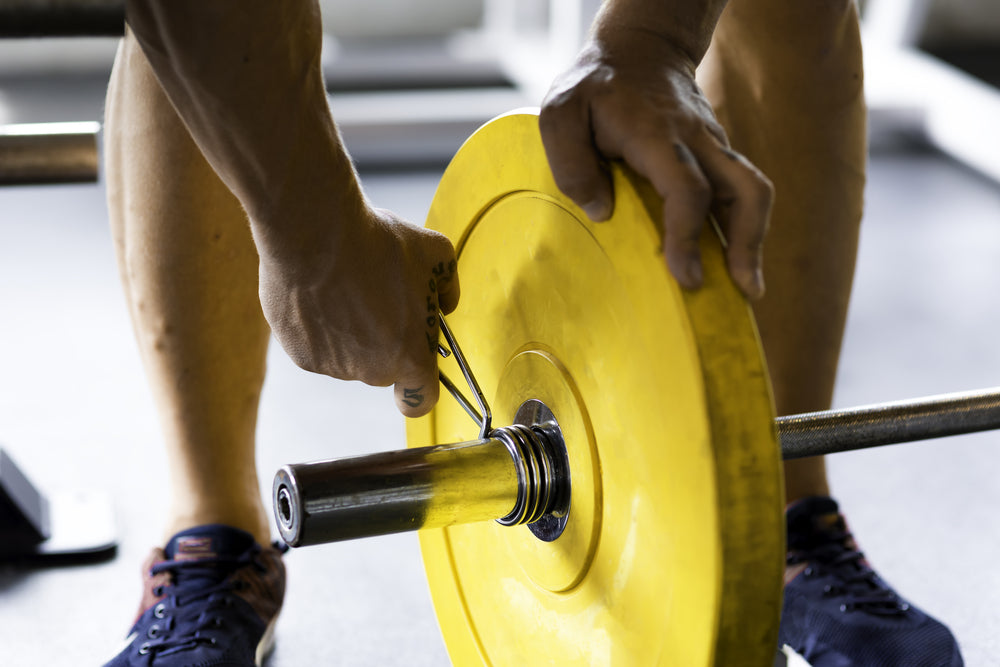 You've measured out your home gym space. You've ordered the mats, your bar, and even the scoreboard. You've added any machines or racks you've been eyeing. Now all that's left is the cornerstone of your lifting workouts — the plates.
But now you have to make a big choice: bumper plates or iron plates?
What matters most is having equipment that suits your fitness level. You want to get products that will help you reach your fitness goals, and make you excited to work out. You don't want to spend a ton of money on plates that don't help you do what you want in the gym.
However, there are distinct differences between these two popular weight types. Both serve different types of lifters and aren't always interchangeable. It's important to do your research on what type of equipment you'll need, then to invest in equipment that will withstand several years of use and last as you go after your goals. Your gym is too important to fill with gear you don't use.
That said, no matter what type of plate you pick, it's important to supply your gym with a variety of weights. You need to be able to switch between different weights easily and adapt to the needs of your workout.
Let's look at the main differences between bumper plates (sometimes called rubber plates) and classic iron plates to see which is right for your home gym.
Bumper Plates: An Overview
Today, bumper plates are a popular item in both commercial gyms and home gyms. Bumper plates can be used in any home gym, on any floor, without causing damage. This is good for those of us who pay the mortgage on our workout space!
They're also quieter than metal plates when dropped, which is good for everyone else in the building. You want to exercise hard without fear of waking someone up or freaking out your downstairs neighbors.
Bumper plates are made with solid metal cores and covered in a protective layer of thick rubber or urethane for protection. They can be made with virgin, vulcanized, or recycled rubber (also called crumbled rubber). This means they're made to bounce when dropped to prevent damage and keep you and your floor safe.
Who Are Bumper Plates Good For?
Frequent dead lifters are going to enjoy these plates most of all. They're built for intensity and versatility, making them a great "new school" choice. You might think you need to go to a commercial gym to practice some workouts like deadlifts and power cleans, but bumper plates make these possible right in the comfort of your own home.
For Olympic lifters, there's always the concern of lifting too much. That's totally okay — it's good to push yourself, and sometimes you don't know your limits until you've reached them (or exceeded them). Bumper plates are essential here. If you enter into a lift or squat and realize halfway through (while the bar is above your head) that you can't finish it, you can bail out of it and drop the plates without damaging your equipment or your home.
Crossfitters, who need to move quickly between workouts, will definitely appreciate the ability to drop bumper plates. This makes it easy to set up, finish a workout, drop the bar, and move on quickly to the next set without breaking your momentum.
At Synergee, we make our bumper plates low-bounce for safety and convenience. Less bounce means less force exerted on the barbell, saving the inner ring from continuous impact damage. Less bounce also makes it easy to predict where the bar will go when you drop it. This is great when you need to bail the bar in smaller spaces — you can trust that the bar won't go bouncing uncontrollably all over your home gym.
What Are The Downsides of Bumper Plates?
Bumper plates are without a doubt more expensive than other lifting options. If you're not an Olympian or you don't plan on doing those styles of lifts, it might not be worth putting out the extra cash to have them in your gym.
Bumper plates aren't always available in lower weight amounts (like 5 lbs. and below). This makes them great for efficiency or circuit training, but can make it difficult to lift more specific weights during your workouts. Bumper plates are also thicker than metal plates, meaning you can't stack as much weight on the bar to fine-tune your training. That's why we make fractional and change plates as well, so you can add smaller plates to your bar and increase your max weight incrementally.
Iron Plates: An Overview
Say hello to the best old-school gym feature since terry cloth wristbands: iron plates.
Iron plates, also referred to as metal plates, are typically made from molten steel, iron, or aluminum that's been poured into a mold and cooled until hardened. The plate is then taken to a machine, where it's filed down on the edges and face until it reaches a precise weight. Because of this thorough process, metal weightlifting plates are guaranteed to be calibrated within 2% of the stated weight (though they're usually within 1%).
Most plates are coated in paint or a protective material through a process of baking to prevent wear and tear, make them easier to grip, or create a certain aesthetic.
Who Are Iron Plates Good For?
There are several reasons why iron or metal plates have stuck around through the decades.
First of all, metal plates have a lower weight claim tolerance, which means there is less variation from the stated weight. For lifters who are consistently pushing their personal lifting records, this comes in handy.
Metal plates are also thinner, which allows you to stack more weight on the bar. This is great for extremely heavy lifting, where you need to stack as much weight as possible on a single barbell.
Because of their shape, metal plates can also be added to the bar in smaller increments. That might make a big difference for you if you're working to reach an exact goal or training for a competition.
They also look great. At Synergee, our metal plates are coated in a beautiful matte-black finish that match the aesthetic of almost any home gym. They're a classic fit for body builders who take a more careful approach to lifting and don't need to drop the barbell very often. If you're a fan of bench presses and curls, metal plates may be a good pick for you. The same applies if you're looking to do a lot of front and back squats without pushing your weight limits.
What Are The Downsides of Iron Plates?
Metal plates do have one very real downside: they're LOUD. These plates are definitely not built to be dropped. They're noisy, dangerous, and will damage your floor if you drop them. If you're using metal plates, it's best not to lift so much that you might need to bail out of the lift.
Deadlifters are going to want to get rubber flooring before lifting these plates. At Synergee, we offer both products, for lifters that want a quality product that won't make their home gym sound like a foundry.
What About Cast Iron Plates?
To clarify, these are differences between standard iron plates and cast iron plates. Weight plats made of cast iron are very similar to regular iron plates, meaning you'll get a lot of the same benefits. Some athletes find them easier to pick up, but in general, these plates tend to be slightly heavier (3% tolerance versus 1% or lower). You're much more likely to have weights that aren't exact if you go with cast iron over standard iron.
Most of the time, people choose cast iron because they are cheaper and have a ceratin aesthetic. Old school lifters may like the rough aesthetic of cast iron plates over the sleek finish of standard metal plates.
Which is Better: Bumper Plates or Iron Plates?
The answer: it depends on your goal.
Iron plates are better for lifters if you're into bodybuilding-style training, where you're training is more focused and you're less likely to drop the bar. If you're focused on building muscle and mostly doing reps, metal plates or cast iron plates will work just fine for you.
Bumper plates are better for Olympic-style lifters. You're constantly pushing your limits when you're doing this kind of training, usually headed toward a personal best or record. It's easier to drop bumper plates safely if you can't complete the lift (either because it's too heavy or your body doesn't cooperate). They're also helpful for Crossfitters who need to drop plates in a hurry to move on to the next workout in a hurry.
Lifters concerned about noise or anyone worried about dropping their plates may choose bumper plates to soften the blow when bailing the bar (either accidentally or on purpose). Lifters aiming for a specific goal or those that need to fine-tune the weight on their bar will prefer metal plates.
Whatever You Choose, Get A Variety
No matter what type of plate you pick, you want to make sure you're getting a wide variety of weights in your set (perhaps even more than what you see at the gym).
Our advice: Don't get the 160 lb set, even if you're just starting out. Get the 260 lb set instead (available in both metal and bumper plates). Time and time again, we see people regret getting a smaller set. It may seem like a good cost saving measure at first, but as you get stronger over time, you'll want that wider variety of plates. A 260 pound set of weights is good for setting goals that you can work toward incrementally. This variety will give you more freedom to choose how much you lift, allowing you to change your weights for squats, deadlifts, curls, or whatever kind of workout you want to do that day.
It's also important to be specific about what you want to go into your home gym. Everything in such a limited space should have a purpose. We offer fractional and change plates for lifters looking to push their maximum weight. You'll be able to add small amounts of weight (even by a half pound) to push your max weight even further.
Of course, always make sure to stock up on safety gear like barbell collars, so your plates don't slide off the sides of the bar.
Reach Your Lifting Goals with Synergee
Here at Synergee, we're obsessed with helping you achieve your fitness goals. We believe in making your home gyms enjoyable for both you and your family. If you like your workout space, and it aligns with your personal goals, you're more likely to make time for it. It's that simple.
We're a family-owned company, and we know that families don't have a lot of time or space for working out. That's why we're committed to helping you get quality workout gear that helps you reach your goals and fits into your lifestyle while still saving money in the process. Our prices reflect our mission as a company and a family — we believe great lifting and exercise gear should be available to everyone, without breaking the bank.
You'll get exactly what you order with us, with our no-sweat guarantee — if the gear isn't right for you, we'll pay for the return shipping cost and give you a full refund.
Stop waiting to go after your goals. Get the right plates for your home gym with Synergee today.